---
Frequently Asked Questions:
How long have you been doing this kind of thing?
My fascination with Halloween started when I was about 11 years old and I started decorating the house with homemade and store bought decorations. I enjoyed tinkering and building things that brought enjoyment to others, and Halloween turned out to be the perfect excuse to put my talents to work on a display that would enchant and mesmerize those that would later visit Raven Manor cemetery.
Like many I had humble beginnings, and although I've been creating spooky yard displays since the mid-1980s, the name and theme for Raven Manor didn't materialize until 2001. It was about a year before this when I found what others were doing and sharing online. I was inspired and ambitiously started building. Since then, we have stuck with the same theme and continue to enhance the display as possible. You can read more in depth on the History of Raven Manor.
Why do you do it?
For me, it has always been more about "the show" and less about being scary. We keep the display family friendly and fun for all ages. All the hard work and imagination that bring Raven Manor to life each year are meant to bring happiness and a little bit of "magic" to our guests of all ages. This is what it is all about, capturing the magic of being a kid on Halloween night. I started hosting ravenmanor.com to contribute, share and hopefully inspire others that are unable to visit in person. I was inspired to create what we have by others sharing of ideas and photos online. In addition, a great source of inspiration to me is Walt Disney and Disneyland, including (of course) Disney's Haunted Mansion. I had always wished my career to be a Disney Imagineer, but I am happy to at least claim it as a hobby.
Where did your display items come from?
Just about all of it is hand made, with ideas from the Internet. The tombstones are made of extruded foam board, cut, glued, and painted. The epitaphs are carved out of the foam by hand with a hobby knife. The ghosts are made from Styrofoam heads and covered in sheer fabric. The eyes are LED's powered by 9V batteries. The mausoleum, cemetery gate and fence were custom made from wood and some PVC. Read more about each project in the Projects section.
Where do you store all of this stuff?
Where don't I store it? If storage weren't a concern I would be building a lot more! It takes up a considerable amount of storage space. Everything so far is stored at my home here and there. The mausoleum breaks down into pieces to make it more manageable to store. All the cemetery gate and fence is on a shelf I built above our garage door. Most of the mausoleum walls are there too, and the rest is in the basement. I do not have a storage shed. Below are some pictures of the shelves I had built above my garage door. There's only about 27" of height clearance, but it gives me 128 square feet of storage and works quite well.



Here is a time lapse video showing the take down and put away for the garage pieces...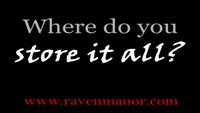 Where else can I see great local haunts and displays?
There is a local group called The Rocky Mountain Haunters. Their website is www.rockymountainhaunters.com and they have created a Google map of displays you can visit here: http://tinyurl.com/haunts-map.